The Client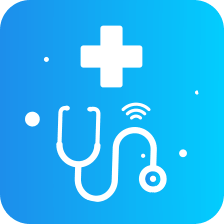 CareSpace
Services
UX Design, UI Design, iOS Development & Web Development
A Revolutionary Telehealth Portal with User Friendly Features
With technological advancements taking place at a rapid pace than ever before, the CareSpace team set out with a simple goal to help people find affordable and professional healthcare providers, whenever and wherever needed by utilizing desktop and mobile-based technology.
To keep this goal in mind CareSpace partnered with Flattechs to design, build and launch a revolutionary portal with most friendly features that allow providers to reduce costs, increase revenues and increase access to care for their patients with the highest security level of end-to-end encryption and HIPAA compliance.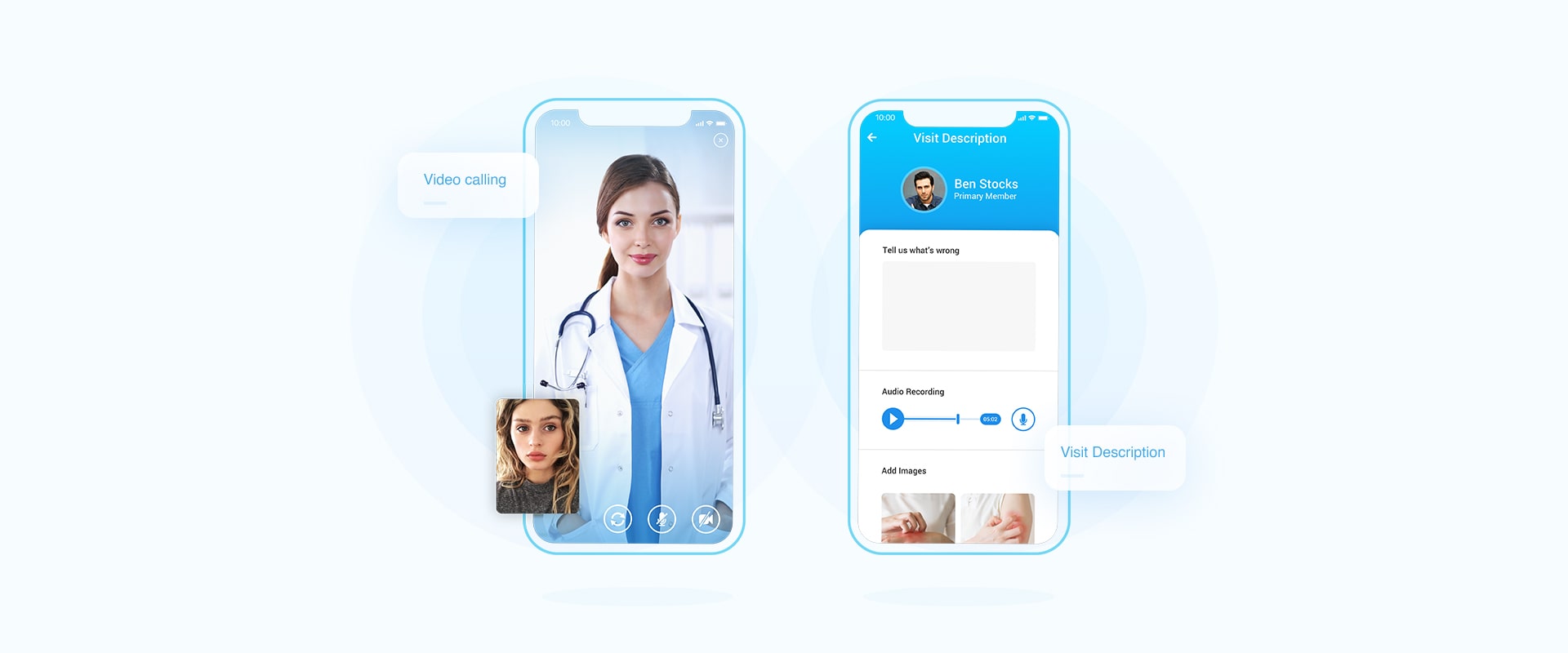 Bringing it to Life
Process design of a secure, compliant and virtual care platform
The rigorous effort to design a user-friendly platform is made possible by the collaboration of Flattechs in which the foremost concern was to design a user experience that met the two basic end user goals. Collaboration of Flattechs and CareSpace led to the development of a platform that patients truly enjoy and love to use. With a familiar and user-friendly interface, matched with easy payment and flexible scheduling, patients are happy and inclined to use CareSpace much more frequently than they would seek in person care.
CareSpace, simply, allows you to see local providers, in a secure, compliant and streamlined environment. Over 80% of common trips to the doctor could be resolved via Virtual Care. For any purpose that does not require a physical examination, telehealth has proven to be just as effective Video visits through CareSpace allow your doctor at the convenience of your time and location. This keeps you out of the doctor's office and gives you much more free time.
Video Call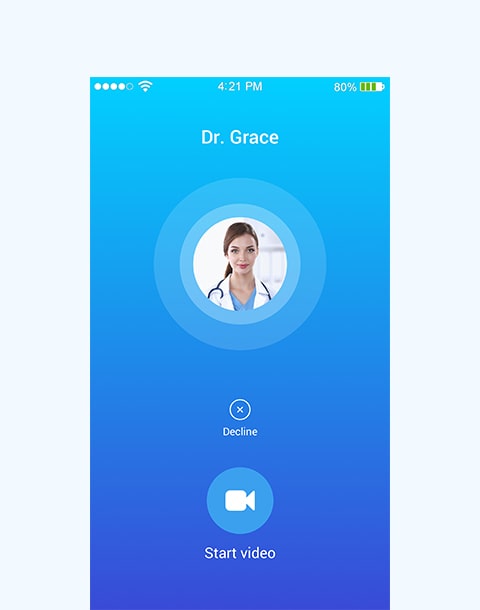 Choose a Product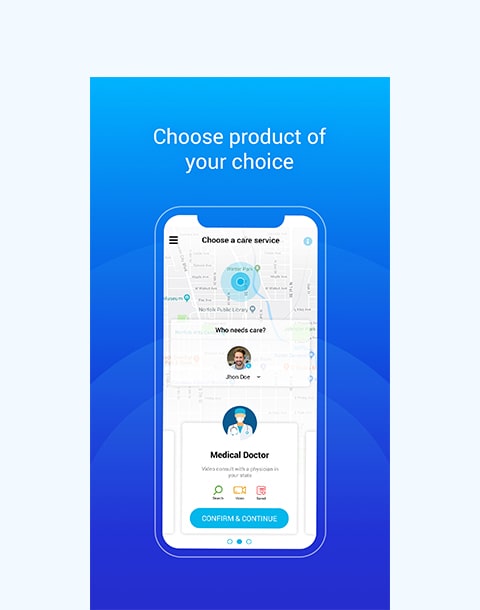 How you Feel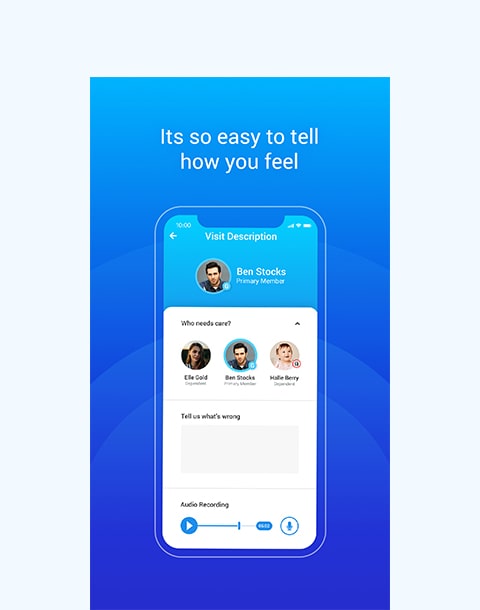 We wanted to create an interface that would surprise and delight users

Imran Anwar

Creative Director @ Flattechs
Design and Branding
Inspiration behind CareSpace
CareSpace is designed to provide a comfort of virtual space to both providers and patients. Due to always increasing need of health care service, care space provides top of the line service, affordability, rapid connectivity and quality access to care paramount. The ideology behind CareSpace is the basic right of every human being to have ease of access to professional healthcare provider, each time. This has now been made possible by CareSpace simply from the comfort of your home or one of our nine Telehealth clinics located all around Los Angeles County.
The CareSpace logo is easily recognizable and speaks to the location-based spirit of the app. Our primary palette consists of white and blue. These colors give the portal a soft, confident yet calm personality.
Typography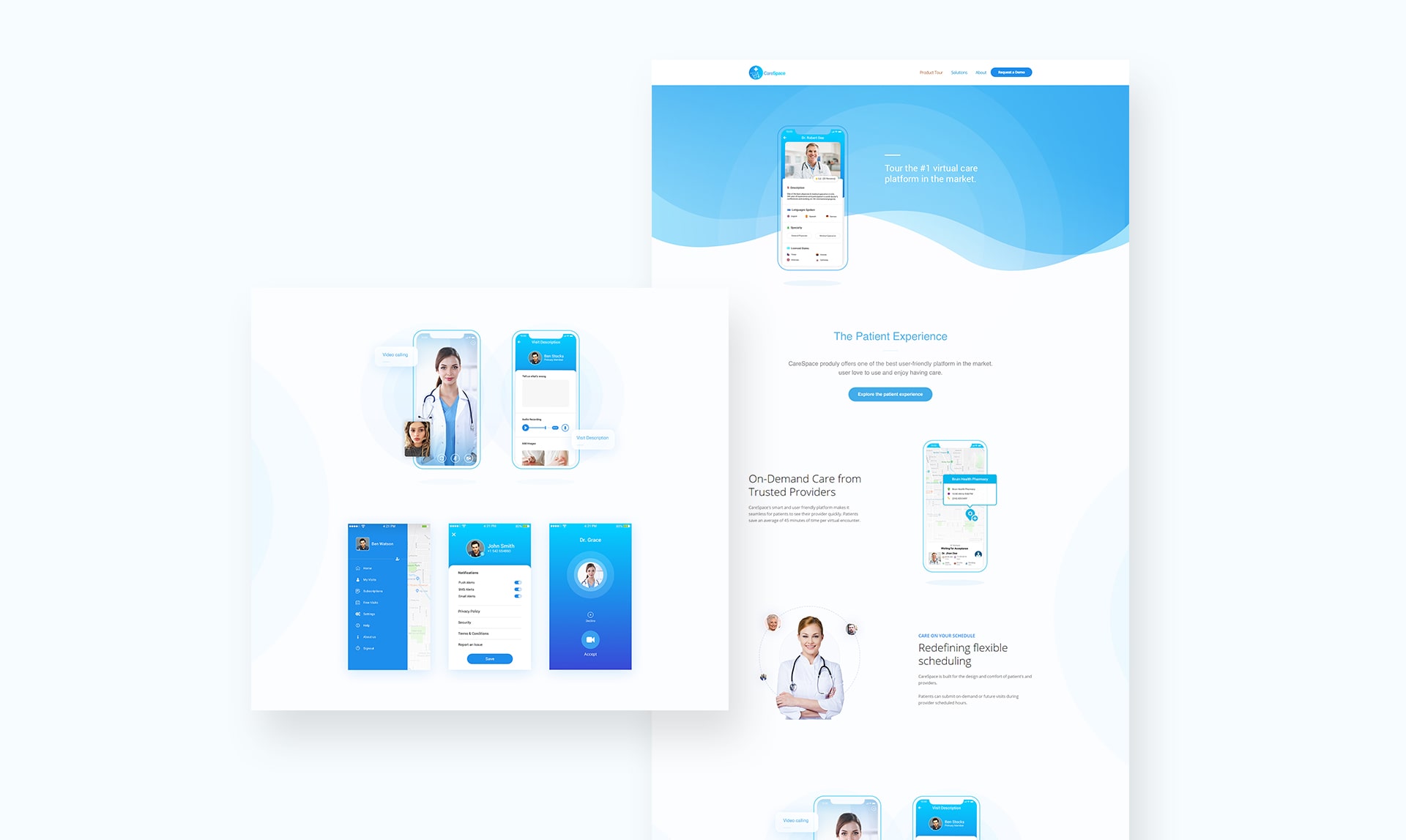 Feature Highlights
Video Calling between Providers and Members
Users can seamlessly interact with their providers over a secure, user friendly and easily accessible video calling option.
Flexible Scheduling
Both patients and providers can simply schedule their appointments, anywhere, on the go or in future, during the scheduled hours of the providers
Enhanced Patient Satisfaction
Patients are more likely to use CareSpace due to its user-friendly platform, easy payment methods, reimbursement and flexible scheduling than they seek out during physical visits.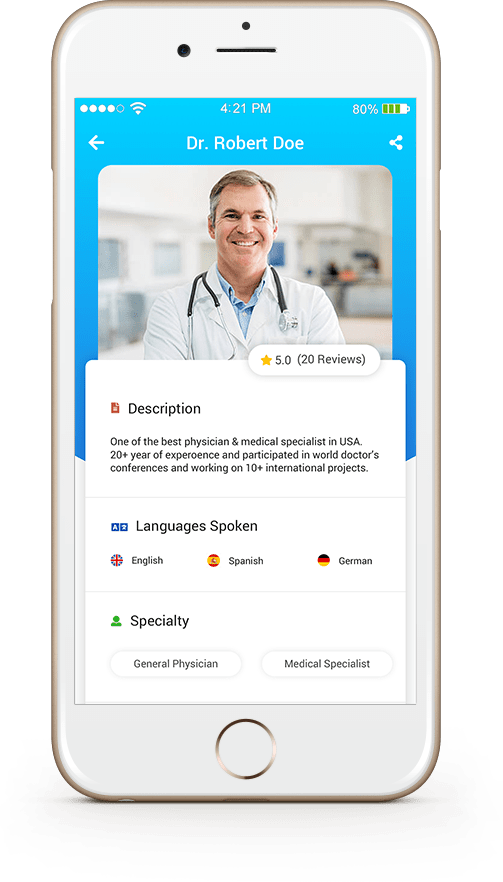 Stunning Intake
Patients can login and access the service by the secure way of receiving a Magic code on their email, automatically connecting them to their providers, with all the essential information already filled.
Prescriptions and Referrals
The prescriptions issued by the providers can be easily accessible on over 100,000 pharmacies connected to CareSpace. If providers refer a patient, in-person health referral clinics are also offered.
Ease of Payment
No need for hassle for invoices or paper checks, the built-in payment system facilitates patients to pay cash, co-pay or coinsurance with, everything streamlined and built directly for patient's comfort.
The Results
CareSpace offers a plug-n-play of virtual care solutions to both the patients and providers to reduce their medical costs, increase the reach of patients and provide hassle free time by connecting though home or work. This platform will help providers in increasing their capacity and revenue along with significantly increasing patient satisfaction. The virtual practice, on one hand will benefit providers to increase their patient base in multiple states, where on the other hand, patients will experience hands on expertise of every level of Specialist and an unlimited range of specialties. The security experts and engineers have put together a super simple interface with the highest level of end-to-end encryption and HIPAA compliance methods. CareSpace simplified billing process, reimbursement makes it beyond simple to collect payments.
5 out 5 star App Store rating

from user submitted reviews
We can build your story
Through the years we have partnered with great companies all over the world.